The house was built about 1920 for Dr Alfred Osborne Knight and his wife, Mrs Annabell Davies Knight. Their adult daughter Beryl Knight lived there with them.
Dr Knight was one of Auckland's surgeons after his arrival in 1882, and Annabell was involved in the suffrage movement and the YWCA in Auckland. They had previously lived in Ponsonby and Epsom.
He had bought two lots of land in Mt Albert from the Greenwood auctions – the first in 1885 of over 2 acres – Lots 30A and 31 of allotment 34, and the second in July 1892 of Lot 30 between the railway and Counsel Terrace.
Prior to building Fairhaven, Dr and Mrs Knight lived in Ponsonby and Epsom, not in Mt Albert. However, Dr Knight's parents William and Mary Knight, and some of his younger siblings, lived on the Mt Albert property from the late 1880s in a house known as Tewkesbury Lodge. From 1912, Dr Knight's daughter Dorothy and her husband Frank Middleton Stephenson and family lived at Tewkesbury Lodge until the late 1920s.
In 1922 when a Jersey cow and a Holstein heifer were offered for sale his address was given as A O Knight Fairhaven Asquith Ave, Mt Albert. This changed to Seaview Terrace after the construction during 1926 of 6 chains of roadway through Dr. Osborne Knight's estate, Mt Albert, which must have involved an extension of the road.
When Dr Knight tried to sell the property towards the end of 1922 the section would have been larger than its current size. It was advertised as an "attractive roughcast bungalow surrounded by picturesque garden, tennis lawn and shrubbery" (NZH).
Annabell Knight died at "Fairhaven, Seaview Terrace" in 1928 on June 17th (Auckland Star 18 June 1928). According to the 1935 electoral roll Dr Knight was living at 62 Seaview Terrace along with his daughter Beryl, and his son, Cedric Knight. By the early 1940s Beryl, who married, and her father, Alfred Osborne Knight, had moved to Waiatarua.
On Saturday 4 March 1922, a public Garden Fete was held at Fairhaven (New Zealand Herald, p.16. Papers Past).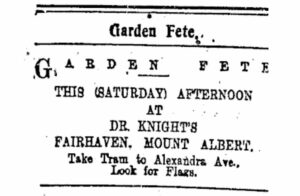 Sources for this page
Jenny Clay, personal correspondence, March 2022.