Go to the map of maternity homes to see location (H).
637 New North Rd (to 1941); renumbered to 737 New North Rd, Mt Albert.
Jesmond Dene was located at 637 (later renumbered to 737) New North Rd. It was the home of the Kirkup family and was turned into a private maternity hospital after the death of Thomas Kirkup.
It was first mentioned in the newspaper in January 1931 in a birth notice in the Auckland Star, and from then until 1942 it was run by two nurses, Nurse Mary Montgomery and Nurse Jean Forbes, who rented the building from the Kirkup family. In Wises Post Office Directory entries from 1933-1942 read "Montgomery & Forbes, Pvt Hosp." A nine room villa, it was one of the district's largest private nursing homes.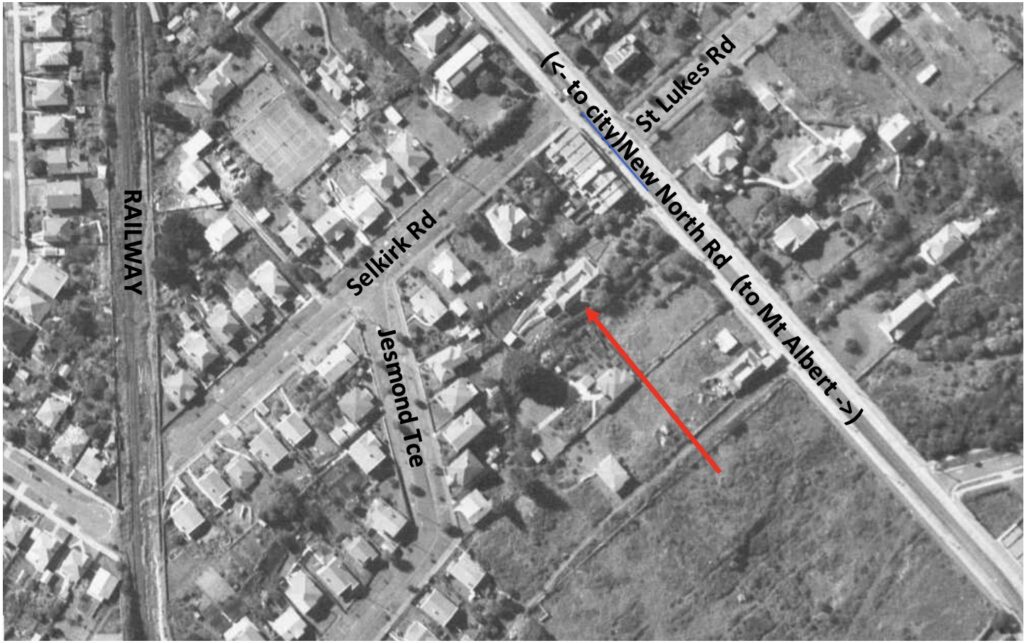 April 1940 aerial photo cc sourced from http://retrolens.nz and licensed by LINZ CC-BY 3.0
At the end of 1941 the villa was put up for sale. New ownership resulted in a change of management, and Nurses Montgomery and Forbes were no longer associated with Jesmond Dene.
In December 1942 and again in November 1944, Jesmond Dene advertised for a probationer nurse.
Jesmond Dene was still in operation in 1955 (Wises Post Office Directory). Lisa Truttman says it was still operating until at least 1958.
Today, at 737 New North Rd on the corner of New North Rd and Mt Albert Rd there is an unmarked industrial building which houses the Mt Albert Telephone Exchange. Now spanning three sections, the most westerly third was built in 1941. The part closer to the city lies across the front of the section that Jesmond Dene was on.
Prior to the major road realignment in the 1970s, St Lukes Rd finished at New North Rd. Directly opposite was a block of shops known as the Braemar shops, on the corner of Selkirk Rd. Next to these shops was Jesmond Dene, set well back from the road, with the telephone exchange on its western side.
1931-1942. Nurse Mary Montgomery
Nurse Montgomery registered as a midwife in January 1926. She worked as a midwife in Wanganui, Onehunga and Mt Albert (she lived in Duart Ave in 1928), before coming to Jesmond Dene.
1931-1942. Nurse Jean Forbes
Nurse Forbes registered as a midwife in 1919 in Napier. From late 1920 she was working in the Mt Albert area, based in Grey Lynn.
1950s-60s.
Jesmond Dene was still operating as a maternity home during the 1950s. It appears in Wise's Business Directory in 1950-1, and have had correspondence with someone who was born here in 1953.
This image almost certainly shows Jesmond Dene in its later years. Can any of our readers confirm this?
House in New North Rd near telephone exchange. Taken by Fred McGehan 1950s or 60s. Auckland Libraries Heritage Collections 255A-35059.
An aerial photo taken in April 1972 below shows that the telephone exchange was being extended across the front of Jesmond Dene. Access seems to have been cur off. It is likely that Jesmond Dene was on the verge of demolition.
April 1972 aerial photo cc sourced from http://retrolens.nz and licensed by LINZ CC-BY 3.0
The aerial photo taken in December 1972 below shows that Jesmond Dene has been demolished, and the telephone exchange has been extended across the front of the section.
December 1972 aerial photo cc sourced from http://retrolens.nz and licensed by LINZ CC-BY 3.0